FINANCIAL PLANNING
---
We are a CFO for the Individual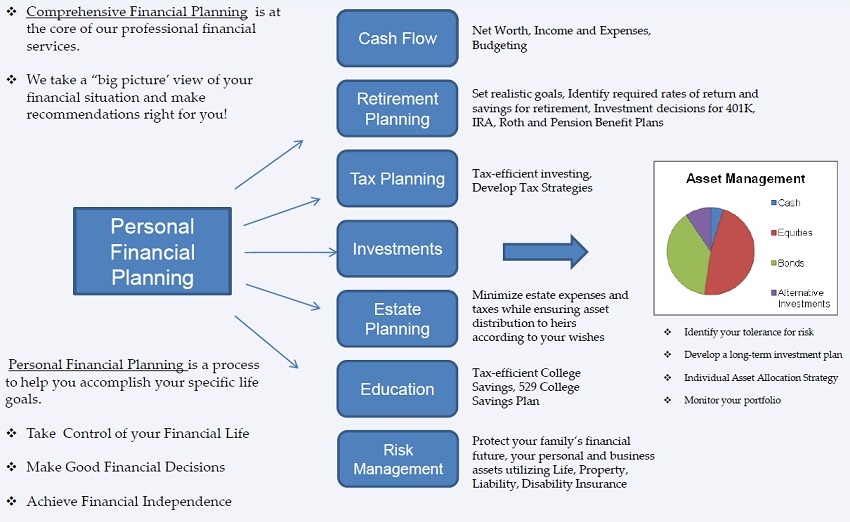 Everybody could use a CFO. Not just big corporations, but individuals looking to make the most of their financial resources. Since 1987, Cruice Financial Organization has been providing clients with confidence in managing their financial future. The C.F.O. team is dedicated to prudent, long-term investment management through disciplined financial planning. What the C.F.O. team enjoys most is the satisfaction that comes from working as the CFO in their clients' financial lives and being the "enabler" for clients to achieve their goals for current lifestyle, wealth accumulation, retirement and, above all else, providing clients with peace of mind about their investments and financial affairs.
In the rapidly changing economic environment of today, a professionally prepared and executed financial game plan is a necessity. Cruice Financial Organization combines state-of-the-art financial planning computer technology with a full complement of tax, legal, investment and insurance advisors to provide individuals with excellence in personal financial planning. Working with you as your personal CFO, we can provide financial planning programs tailored to meet your specific needs and objectives.
Comprehensive Personal Financial Plans

Income, expenditure & cash flow analysis

Financial & net worth statements

Personal investment portfolio

Qualified plan investment portfolios

Retirement income planning

Personal tax reduction plans

Education funding plans

Estate planning

Corporate executive benefit planning
Risk management & insurance planning for:
Life insurance coverage

Health and personal disability including long-term
Care protection
Medical insurance coverage

Property & personal liability protection

Long-term Care Protection
Specialty planning needs such as:
Home (re)financing and mortgages

Financing a new business or practice

Buying or selling a small business or professional practice
For more information or an appointment to learn more about the Cruice Financial Organization approach to financial planning and counseling you in the organization and management of your financial affairs, call us today at (203) 656-0033 or (203) 221-0202.